The Application Process
"The journey of a thousand miles begins with the first step." – Lao Tzu
Applicants must have read The Web That Has No Weaver by Ted Kaptchuk and Between Heaven and Earth by Harriet Beinfeld & Efram Korngold. You will not be called for an interview until you have completed them. If you are in the process of reading these, state this on the application and then notify the Recruiting Director when you have finished so an interview can be scheduled.
Application Requirements
A completed application consists of:
Completed application form and fee payment: $50.00 ($100.00 for late applicants, transfer students or international students)
A recent passport size photo
Essay (no more than two pages)
Current resume or CV
Copy of your driver's license or birth certificate
Two letters of recommendation sent directly to CSTCM
Certified transcripts sent to CCMU directly from all the schools previously attended
Demonstration of English proficiency, where required
Certified credential evaluation, where required
No application will be processed until the required documents have been received. After all the above material is received, the admissions committee will review the application. Applicants who are considered eligible for entrance into the CCMU program will be notified to schedule an in-person interview.
Out of state applicants may be interviewed by telephone, but it is advised that they come for a visit to the school. Applicants will be notified by letter within 30 days after the interview of the schools' decision.
Upon acceptance to the program, full-time applicants are required to submit a refundable tuition deposit of $300 for full-time or $175 for part-time within 30 days to secure their place in the incoming class. After CCMU receives the deposit, accepted applicants will receive any material pertaining to the upcoming class (schedule, required book list, date and times of orientation, etc.).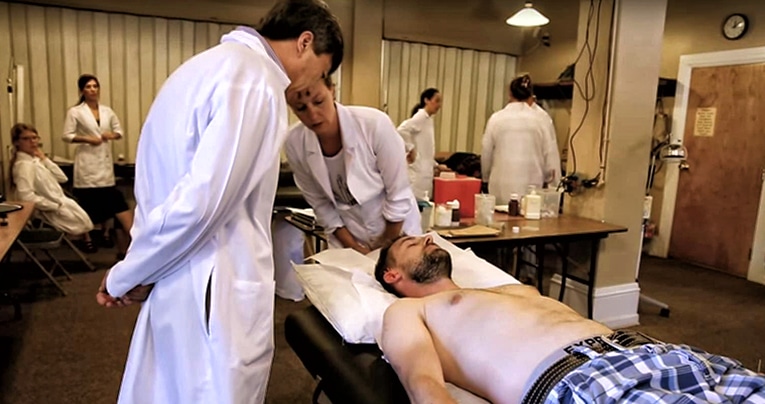 The schedule of classes for any given trimester is available at the Administration Office approximately 6 weeks before the first day of classes. After the schedule is out, an appointment must be made with the Registrar to register for courses.
Orientation is held at the school on Friday preceding the first week of classes. All incoming new students must attend Orientation.
Application Instructions
Instructions for Filling out the Application and Submitting Paperwork
Please read and understand all application instructions before you begin.
The application is a fill-able pdf and use of a desktop computer or laptop is recommended as it may not display and or respond correctly on a tablet.
Download the current version of Adobe Reader here: Adobe Acrobat Reader (it is recommended that you update your Adobe version before starting the application.)
Once you have completed the application please print, sign and submit it along with the appropriate application fee.
Emailed, faxed or photocopies of completed applications will not be accepted.
For questions about the application or process please contact the Recruiting Director at admissions@ccmu.edu or 303-329-6355 x21.
Incomplete applications will not be accepted.
The following four documents must be the hard-copy originals:
Application – All areas of the application must be filled out (with the exception of the Ethnic Background which is optional) if an area does not apply to you then please select None or write 'N/A'. Use of the phrase 'See Resume' or similar expression will render the application incomplete.
Letters of Recommendations – Letters of recommendation must be the originals, contain contact information and a live signature of the person who has written it. It is preferred these letters are mailed directly to us.
Certified Transcripts – These must be mailed directly to us or by secure email from all colleges & universities previously attended. Many schools manage transcripts using Parchment.
Photocopies of the above documents will not be accepted.
The following documents may be emailed to the Recruiting Director:
Photo or selfie
Essay
Resume
Copy of Driver's License
Passport Size Photograph – Please insert a recent passport size photo of yourself by clicking in the 'Insert Photo' area provided on the first page of the application. You may also attach a photo by a paper clip or email a selfie and we will affix it to your application upon receipt. A copy of your driver's license is not a substitute for the picture.
Educational History – List all colleges and universities you have attended. If you run out of space please note the additional schools on a separate sheet of paper and include with the application.
Professional History – Do not write 'See Resume' please list your most recent jobs; up to four.
Have you read – The Web That Has No Weaver and Between Heaven and Earth? If you are in the process of reading these still, please mark the box 'In Process' and then notify the Recruiting Director when you have finished. It is preferred you complete these two books prior to your interview.
Signature Line – After printing the application please remember to sign and indicate the date you have filled out your application.
Phone Interview – If you need to interview by phone please note this under the signature line and also inform the Recruiting Director admissions@ccmu.edu or 303-329-6355 x21.
Check Boxes – By default many of the checkboxes already contain a check mark; please make sure the appropriate box is checked for these areas.
Application Form:
(This file must be downloaded to your computer and opened with Acrobat Reader to enable the form fields)
Where to Mail Your Application
Mail all required paperwork to our Recruiting Director:
ATTN: Andrew Barili / CCMU
1441 York St Suite 302
Denver, CO, 80206
For any questions please contact Andrew Barili